Welcome!
Rain and Thunder is a grassroots publication created and distributed by a collective of radical feminist women. Published three times a year, Rain and Thunder brings you the very best in radical feminist news, analysis, theory, community building, and activism.
Rain and Thunder has been published for over 13 years and continues to fill a much needed gap in the realm of independent feminist media. We offer a sliding scale subscription policy to ensure affordability and accessibility for all readers.
Please read through our website and learn more about us. Support grassroots feminist media!
Recent Issues
Issue 59 (Summer 2014): Open Issue
Featured articles:
Feminism: We Are Not Calling for Equal Inequality by Finn Mackay
Women EcoWarriors by Vandana Shiva
Why the Trans-Pacific Partnership is a Feminist Issue by the Asia Pacific Forum on Women, Law and Development
The Failing State of Native American Womenís Health: An Interview with Charon Asetoyer by the Center for American Progress
Standing Our Ground: Reproductive Justice for Marissa Alexander by Monica Simpson
Have Fun So We Do Not Go Mad in Male Supremacist Heterosexual Amerika: Lesbian-Feminist Poetry in The Furies by Julie R. Enszer
Decolonizing Womenís History: An Interview with Max Dashu by Meghan Murphy
Issue 58 (Winter/Spring 2014): Feminist Humor Issue
Featured articles:
The Power of Womenís Humor: From Supreme Court Justices to Comedy Stars by Regina Barreca
When Wisdom Speaks Sparks Fly: Raging Grannies Perform Humor as Protest by Carole Roy
Jan Eliot at 60, Stone Soup at 18: A Cartoonist Profile by Roz Warren
Got Humor? Tools and Inspiration for Your Activist Toolkit by Mary McClintock
Humor: Itís An Attitude ó A Rain and Thunder Interview with Lesbian Comic Kate Clinton
Antidote to Dominance: Womenís Laughter as Counteraction by Nancy Reincke
Who Says Radical Feminists Arenít Funny? A Glimpse of Activism from the 1980ís by Ann J. Simonton
Latest News

We are seeking contributions for our upcoming issues:
Issue #60: Violence Against Women: Strategizing a Radical Response for the 21st Century (Deadline: August 15, 2014)
Issue #61: Creativity Issue (Deadline: October 15, 2014)
Support Feminist Media!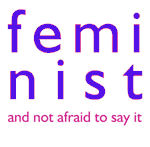 Get involved in ensuring Rain and Thunder's survival and growth!
Donate
Rain and Thunder depends on grassroots support. Please consider making a donation to support radical feminist publishing!